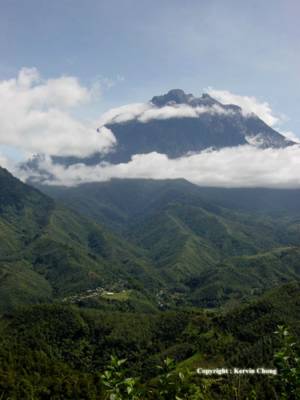 Pic: A small village nestled near the foothills of Mt Kinabalu, South East Asia's highest peak (4095.2m). Picture was taken near a lookout point near Pekan Nabalu on the way towards Kundasang, the nearest town. Clouds were already beginning to obscure the peak and by late afternoon driving proves difficult as visibility drops to less than a hundred metres with cloud cover and mist, making the place both spiritual and ethereal.
Mmm, I as thinking of a new theme this week to showcase, I figured what better but to put up pictures of my current residence, Sabah. I still haven't been to every part of the state but the sights and places are bound to astound you. Starting off is one of the most famous landmarks in Malaysia, our very own Mt. Kinabalu. The mountain is still held sacred by many of the tribes living near the area and a yearly offering of chickens and prayers is held (it used to be enacted before any climbing attempt) to appease the souls of ancestors that is believed to reside here. Another legend also speaks of the mountain being the dwelling place of a dragon. But now the mountain is open for anyone to try and stake their claim of the top!
Whew, the last time I attempted Mt Kinabalu, it involved a 2 day climb. For those out of shape, the mountain can be a bit of a challenge but even people who spend their waking hours sitting in front of the com in an office, its not particularly difficult with it's well planned trails. Yet it's amazing how some people can actually breeze through the climb and back again all in the span of less than 3 hours! Yup the record for the yearly Mt. Kinabalu marathon is about 2 and half hours, and that's both ways. But from observations, I believe these athletes can never beat the porters who traverse the peak every day for the rest of their life. Walking up, I was passed by an old lady who I put at around 70 years of age lugging 2 gas tanks on her back and she was outpacing me fast, whistling a tune whereas I was puffing my lungs for the rarified air! Well these folks have been doing this since young and now it's not much of an effort unlike me:)
The climb is worth all the amount of leg muscle strain, drenching and soaking from the rain and leech bite one might get if unlucky. The view at the top during the early dawn is spectacular and there is nothing like the feeling of being above the clouds, painted with every hue of a sunset when standing on the plateau at Laban Rata, the rest house one spend the night before an early start. Sights that will greet you will be, cascading waterfalls, cliff faces, stunted mist forests, vertical crags, sheer dropoffs, lush jungles and your final goal, the top. A not to be missed stop later when one ascends is a good soaking at Poring hot springs a little down the road past the town of Ranau. Here all your aches can be melted away in a natural hot water bath that will leave you tingling. So for all those that ever made plans to visit Sabah, one of the must see and do is climbing Mt. Kinabalu. So try it yourself!
Few reminders for those attempting a climb;
Pack light, you don't want to be burdened climbing, you can leave your excess luggage at the park office as storage.

A little practice and excercise session to keep in shape a few weeks before the climb might help those sedentary figures.

Dress appropriately, light weight clothing that allow you to breathe is recommended, sweater and windbreaker helps stave of the chill (reaching near 8 degrees at night), gloves for a good grip while navigating the rock face, balaclava to protect your face and a good pair of comfortable shoes to avoid leg sores, also lots of socks (trust me)!

Leave valuables at home, forget the steroes, walkmans, watches etc. They're more of a liability than anything to you. A small amount of cash is needed near RM50 (around USD 15) if you feel like buying a hot meal and coffee, or bring instant noodles if one wishes to save:)

Muscle ache reliever! This is a MUST MUST, many a life has been saved with this little miracle!

Bring a medium size bottle of plain water, refilling stations are available about every kilometre for refills.

Bring a camera, you'll see a lot of good shots available while climbing.

Energy bars or even chocolate helps in boosting energy levels while on the climb.

Lastly, a rain coat (light one) is a good deal especially climbing during the rainy season when sudden downpours often turn the pathways muddy and water gushes past you in streams (hence the extra socks!).

Enjoy yourself, it's a good experience, one you're not forgetting easily.