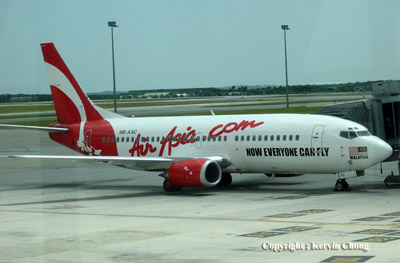 Today I've just read a blog about Air Asia by someone with a gripe due to a rescheduling of her flight. I sympathize but also faulting the carrier for one incident of discomfiture does not give a clear picture of the company at all. Well I would like to share with you a little about my own experience with Air Asia (AA).
AA is a budget air service, we must emphasize this fact that thought somebody know this very well still say why can't AA give the type of service offered by Malaysian Air Services (MAS) the national carrier. Budget travelers do not expect creature comfort, an analogy; backpackers would never mind sleeping in a dingy bunk bed with only a small fan creaking on top for ventilation, no television, no fridge, communal toilets nor do they expect a mint on their fluffed up pillow to welcome them. They want fast, cheap and available and that's what they get.
For me, a university student from Kuantan that is studying in Sabah, air travel by conventional means (MAS) is down right expensive. At a price tag of RM 440 one way from Kuala Lumpur (KL) to Kota Kinabalu (KK) and a transit flight from Kuantan to Kl (RM 120) I wouldn't have a chance to even visit home during my three year stint. Enter AA, with its promise that 'Everyone can fly', which I think is marvelous. Now I fly at RM 169 (cheapest fare, highest could reach RM 200 plus but is still cheaper than MAS) from Kl-KK! Ok so we do away with the booking beforehand service, ok so we have to pay surcharges if we need a schedule change, ok so there's a 15 kg baggage limit, ok so we have to wait in line, ok so we have to be there 2 hours in advance, ok so we have no prior seating arrangement, ok so no food or drinks are served (though you can opt for a RM8 bowl of laksa if needed!), ok so there's no in flight magazine or entertainment, blah blah blah. So what, these are things we can live without, especially us financially impoverished students.
For a saving of more than half the cost of a MAS ticket, traveling back to Kl is a breeze and not too heavy on the pocket. Many also has complained about the delays and rescheduling, but somehow during the whole 3 years of service (I must've made at least 25 trips on the carrier) I've only experienced it once, and that they told me 2 days in advance via sms. Ok so some other poor soul is not so fortunate, hey that's why we have freedom of choice, pay the extra and ensure a seat and time on MAS. I'm not touting or blowing Tony Fernandez's horn but AA has provided a great service for me. MAS does at times offer supersavers flight but this offer seems so similar to Air Asia low flight deals and spaces are also limited for each flight.
The only inconvenience involved was the government's move to shift the operational airport from Subang International to Kuala Lumpur International Airport (KLIA). Now it takes me one and half hours (used to be 10 minutes), payment of toll and gas money or taxi fare if you're taking one (Toll: RM 2.50, gas: estimated RM 10 for 60km or Taxi: RM 50 one way) and the inconvenience of family members not being able to see you off (parking fees are expensive, takes time, walking distance, etc). Maybe they should revise the arrangement and allow AA to operate off Subang like other budget airliners in other countries utilizing secondary airports which save on payments. Linking smaller and less popular routes with a budget airline also makes sense. If MAS cannot manage to offer affordable prices for short flights or less popular destination, the mantle should be given to budget air flights. I'm still waiting for AA to offer a Kl-Kuantan flight. If it can be had for RM60 or less then I'm all game!
I figure a lot of people here would agree to these facts. To AA keep up the good work, hope services will keep on being as good but also improve in areas. Truly everyone can fly.
Goodbye Superman, I've watched your early films and it has been
an inspiration! You'll be missed Christopher Reeve. Legends don't die, they live
on in us.