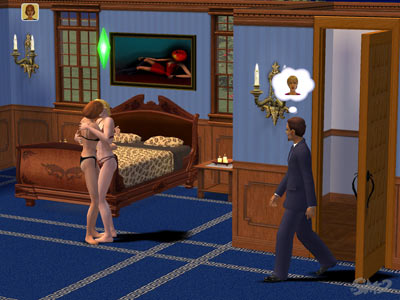 Back in the 90's Maxis, already famous for its town building games such as Simcity and Simtower decided to publish a game that allows us to mess around with human personas in a household environment. Who knew such as simple concept would grip us all in such huge ways. Now SIMs is a household word that almost everyone knows (besides those living in never never land with no news reaching you), appearing in news, becoming a social catch word, appearing on the cover of TIMES and even gaining the support of celebrities such as Drew Carry and Britney Spears who are found in the game (an ad was made for MTV using just SIMs models). From this humble beginning the SIMs has progressed into various expansions; allowing people to throw parties, find love, take vacations, visit towns, own pets, become a celebrity and just be magical! Now SIMs 2 is set to carry out that tradition and maybe even expand the universe further.
Why does it appeal to us, the act of directing a few polygonated personas on a computer screen and pointing them out to do such mundane stuff as feeding and washing themselves? Maybe it allows us to imprint our own personas on screen, trying out all the whacky stuff we never did in life (fancy becoming an astronaut, just start out in the Military field and work your way up). Make skins of your closest friends, dump them in a house and see what hell breaks loose if they're left to their own defense. Others would cite the ability to play interior decorator (ok some guys out there would never admit that the SIMs is a huge doll house), choosing everything from wallpaper, tiles, garden fixtures and furniture. You can even choose your character's wardrobe. Make your place a Gothic castle, retrace the Hippy revolution, be bold and mix and match, there's no limit to the creative aspect of the game.
The SIMs is not limited to any single groups; the people playing the SIMs come from a wide slice of society. Check out the user made websites which offer downloads to further customize your SIMs. People all around the world, of different nationalities, personalities, race, religion and beliefs are playing the SIMs building virtual communities that so many world leaders fail in the undertaking. From the more 'normal' people offering furniture and fashion downloads to the more seedy side of human beings (check out sites like 7 deadly Sims) with more adult oriented themes like skimpy leather suits and nude skins. The fact that this ability to customize your SIMs that makes the appeal of the game last so long, the SIM world never gets stagnant but grows. No denying that the chance of playing God is always at hand, controlling the fate of your SIMs, walling them up until they die at your whim, make them into the model citizen or simply put ourselves inside and see what happens (not sure if a girl would like you, tweak their personalities and try them out in SIMsphere). I know someone who if she find a Sim persona she dislikes (yes she can form an emotional attachment with them), will wall him in a corner, put a fireplace and a rug nearby and watch as he catches fire and burn out in an inferno. Nice ash décor later for other housemates to mourn over. Else she ask them to swim, delete the ladder and watch as their energy bar depletes and they drown.
Well looks like the SIMs are here to stay, I'm wishing for SIMs 2 but too bad my computer can't take it as the graphic quality has been boosted and mine's obsolete!