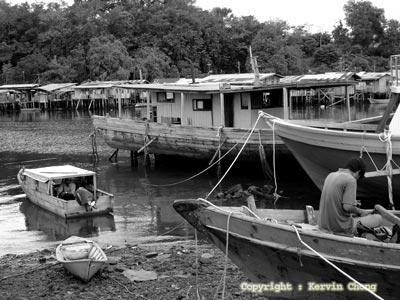 Kampung air, near the jetty area where a community of boat builders are often seen at work while commuters often board boats heading for other islands off the cosat of Kudat, in some instances the Bajau Laut (Sea Bajaus) live their whole live in their boat without stepping onto land except to be buried. Kudat, Sabah, 2005.
Beginings

"Pack your bags and give me a call later tonight to see if tomorrow's plan to head up will pan through," Mr Ramlan exclaimed.

Those were the first sentence that set off this journey here to Kudat. Mr Ramlan, the Seaweed project coordinator was to allow me to hitch a ride along with their team as we head for Kudat. Yet all I had was an evening's notice to get everything packed, discuss with my supervisor on what to do and get all the items I need for the sampling trip, in a word I was in a RUSH. Sure enough things went ahead as planned and I found myself with my two bags and on a four wheel drive heading north. UMS has in cooperation with the local villagers at Pulau Banggi, the largest landmass off Sabah's northern tip, a seaweed cultivation project to farm Eucheuma (spinosum and cottonii species). I'm here to observe the farm's operations as well as to scout for samples for my master's project.

It took 3 hours to reach Kudat, setting out at 3 p.m. we reached at round 6 p.m. I watched as the scenery changed from the citycape of Kota Kinabalu, passing through the industrial estates of Indah Permai, past the vast plains of paddy grown round Tuaran through Kota Belud, to the hilly interior of Kota Belud and later the forested roads heading to the T-junction that splits towards Kudat and Kota Marudu and finally the villages and coastal stretches of Kudat itself.

Changes

It has been a year and a half since I last stepped foot in Kudat. The good news is Digi finally has coverage here (allowing me to call Laura)! That moment in the past was a bitter experience at first yet turned out to be one of the most memorable trips for me, giving me a turning point that set the course for the year 2003. I started out previously in a down state, having gone through a break up with my ex and just wanting the trip to end but instead this gave me just the chance to meet up with Laura whom I don't usually bump into during regular circumstances and spend some quality time. I'd admit we weren't exactly close during the trip and only through some sheer fate of luck that led us two loners seated next to each other on the bus journey back, chatting, joking, sharing thoughts, eating together and confiding in a new found friendship making it the most memorable 3 hour bus ride that I've ever took.

Not much has changed here, the same familiar street, shops, people and features are apparent, so much so that it feels like it was that day itself. With the exception of several upgrades for the local hospital, new business blocks and a new clock tower at the esplanade the general look of the area is the same. I am even lodging at the same hostel I was interned in the previous trip, Grace Garden. Walking out I am faced with the same sights, Maybank at one corner, Grace One sports house on the other as well as the mamak stall that served me steamed buns spread with Planta when I asked for roti Planta which I thought would be roti canai lathered in Planta as with back home! The fish market where my coursemates and I conducted our fish survey was still there, as was the market where I bought the local specialty groundnuts, the Tua Peh Kong temple has undergone some expansion while a few 3 star hotels have sprouted out near town.

VIP room at the hotel

Since we headed out late and missed the last ferry for the day to Pulau Banggi (where the farms were), we had to spend the night on the mainland. Our accommodation at Grace Garden was in the best room, the VIP suite konon! Yet in a hostel with a one star rating this did not buy us a bungalow type room with kitchen, plush twin beds, well stocked ice box, comfy toilets, bath robes, room service and scented toiletries. What we got for RM80 a night was a slightly larger version of the typical hostel room with extra space for a mini living room lounge with a 21 inch tv set, vcd player, sofas, a twin bed with a single bed, dresser, air conditioning, a larger toilet (heater included yet water pressure was so low it didn't work) and a fridge (without anything inside it). Well it's not the Hilton but it was cosy.

Seafood dinner at the Esplanade

Stepping out of the hostel, we were greeted by the sight of a group of ah kua, all apparent with their masculine looks, flat chests, tacky hair, muscular frame and deep voices. It was a sight that I never thought would greet me in such a small town. One was tacky, a large guy with curly hair, carrying a black purse and fitting in a tight red dress as well as spotting a pair of high heels! When he/she talked it was a loud booming voice that could've been heard throughout the town. None of them looked as feminine as some of the ah kuas found in Kl though one did come close with his thin body and not so obvious male features. We had dinner at the same seafood outlet near the Esplanade (there's only three). Our party of four (Mr Ramlan, a UMS worker, a local seaweed farmer and I) sat down near the coast, wind blowing in swift drafts sending us the chills. Seafood is the speciality here, our platter tonight consisted of a large ikan putih the size of a cat, braised vegetables and fried shrimps in sweet sour sauce. For less than RM40 this was quite a cheap fare which would set us back near RM100 in Kk. Fishes are kept fresh near floating cages by the restaurant and several choice catches are put on ice and you choose which you want for your meal, indicate how you want it to be done and later it'll be served with rice. The place was full of people having their meals as well as couples and old timers hanging out and sitting on the benches to enjoy the sea breeze. It was a fine dinner to finish the 3 hours drive with. Thus ends day one as we plop our heads on the pillow and slept.