The UMS Chinese community has made the celebration of the Chinese New Year a yearly event in the form of Pesta Ang Pow (PAP). In other states back in Peninsular, this might not be much of a matter as travelling back to their hometown to be with family is relatively an easy matter with various mode of transport available to make the journey. Often the holidays would see an entire exodus of the campus where no one but those that are forced to by unavoidable circumstances is left behind. For most students in UMS especially those from Peninsular Malaysia, this is not always an easy option. Firstly the Chinese New Year (CNY) public holiday is often only 2 days of break (first two days of the 15 day celebration) and with the term end drawing near, always constitute a tidy amount of workload; for the final years the pressure is on to finish of their thesis for submission after the CNY break as well as the ensuing viva, for others exam week is just around the corner also somewhere near the end of February with the CNY holiday amalgamated with the Study Week (in actual fact depriving the students of holidays). Plus the only transport back would be by air (MAS or Air Asia) and seats are highly sought after to the point that full booking are often the norm months before the actual date of the festival. I myself have never had the chance to travel back for a single CNY celebration for the whole three years of undergraduate studies here.

Actress
Adrian, Chee Tong and I posing with one of the actress starring in the play during PAP.

Thus the PAP presents the Chinese community as well as those from the other races an avenue to celebrate this cultural significant date with a night of fun, shows, relaxation and get together. For the Chinese it gathers everyone to remind us of our cultural heritage, the roots that binds us all no matter how tenacious while for those of other races, this is an opportunity to witness what the Chinese culture is all about and to have a better understanding of their fellow Chinese, but no matter the race it is a time to just hang out for a night and forget the troubles of the coming month even for a small moment in time. You'll often hear people saying, "Wow I didn't know Shiao Wei can do wu shu, how does he break those mortars with his hands!" or "Wow she can sing like an Angel, maybe we should get to know her better after this." It is a sight to have your fellow collegues and friends displaying their skills on stage.
PAP gives the student body a yearly event to look forward to and to harness their energy into a constructive outlet. Faces in the crowd are often a reflection of the diversity of the student body on campus, there are students from Peninsular, those from Sarawak and also local Sabahans; sitting side by side are Malays, Chinese, Indians, Kadazans, Bajaus, Muruts, Peranakans and many other ethnic groups and even foreign students such as those from China, Indonesia and Pakistan in attendance; lecturers as well as students, professional barriers broken for the night; while both ladies and gentlemen can be seen in groups or two by two all with their best dresses ans suits to flatter and astound. The event has always been held before the CNY break so that those that are due to fly back can also participate. If there is one university event that manages to evoke a sense of community moreso a family setting for the UMS student body to feel as if they belong together, this would be it. Being so far way from home and loved ones especially during the holidays cements a bond between those who only have each other here to depend on.

The problems faced in hosting such a grand event is by far no means small. It is not easy in terms of logistics, finance and planning. Candidates who aspire to lead and host the event are carefully selected, going through the process of interviews and even defending their stance on stage for evaluation of their worth. Then there are matters to attend to such as the venue for the event, transportation to ferry students living in the scattered colleges off campus and within, refreshments, acts to be held for the night, guest speakers, sponsorship and of course the selling of tickets for the event. Preparations are conducted months ahead of time to ensure the smooth running of the show. It is a proud moment too for those people that slaved hard to sacrifice time, money and effort to make this event a success, understandably they have other commitments such as work to attend to and the staging of this event is by far no small feat.
One trait that is admirable is that the committee in charge has really bonded together to solve problems like lack of funds and to elicit the ever reluctant sponsors to give generously to the event to the point that ticket prices for a student amounts to only RM5. No costly prices and fancy shenanigans costing oodles of cash, but it holds to the spirit as an event for the student community and takes into account that anyone should be able to afford the price and not be left out to the elite to attend (this year the price went up to RM8). It must be noted too that the business community have been very generous in this respect as well as the local politicians (Datuk Yong Teck Lee was a frequent guest before) who often show support by attending the event as officiating guests and with monetary support. The worst part of the negotiations is with the university itself which often wants a say in the event (in the placing of committee members of their choosing) as well as part of the profit which I don't know how they wish to justify is theirs as the project is entirely a student venture.
Singing

A choir team singing popular hits to entertain the audience.
Events shown on stage often involve elements of the Chinese culture. There will often be a dance and song recital such as the fan dance or plate dance; the local Chinese school orchestra would be called on to perform a concert playing traditional Chinese instruments such as the er hu (a long stringed instrument played using a fiddle); several student talents would lend their voice singing popular Mandarin songs; a sketch featuring comedic features; lion dance; wu shu performance and even Calligraphy (of which my old Mandarin lecturer Mr Huang would show off his skills not only by writing Chinese scripts but also the Jawi letters as well as Tamil script). The participants are well into their crafts, often seeing a standing ovation with the crowd clapping and shouting for an encore. Though one sad event was when Mr Huang wrote calligraphy in different language script and I heard the crowd jeer and sneer and even someone near my seat shouting boo, such attitude saddens me for what the event stands for, a display of culture.
Chancellor's Hall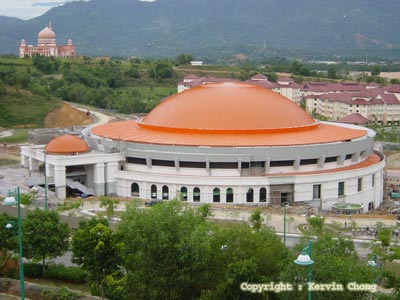 I still think the hall looks odd; its either looks like a gigantic orange juicer or a giant contraceptive cap. What do you all think? Anyway the interior does not reflect like it's tacky outer facade.

This year it is no different, the committee members were chosen, advertising were strung through the town (though I think putting a picture of Chicken from Cartoon Network's 'Cow and Chicken' on the banners is a little too much and tacky even if it the year of the Rooster), tickets printed and made available through avenue such as Popular Books Kk, within the campus and even direct selling (they even managed to buy an ad for the GSC cinema which I caught before National treasure was showing) and the date has been set for this Saturday, January 29th. It is a good effort I must say, to make this event a yearly tradition, one to be emulated by other societies and a display of how common cause and pride can mobilize the student body to work efficiently (as compared to the usual). The venue has often been a problem, lacking space to hold the amount of people attending, the committee had often resorted to renting halls outside the campus. The first year that I attended was staged at the Yayasan Sabah building while later it was held at the Likas Stadium. This year with the completion of the Chancellor Hall, there is now a permanent staging area where the event can be held. The coup de grace the committee this year hope will attract public attendance would be a listing in the Malaysian Book of Records. That's right after so many has been said about senseless record breaking, UMS wish to top previous effort (especially by other universities) by having the largest 'Low Sang' (mixing of yee sang ingredients) session in Malaysia. How this will be done I cannot fathom and its worthiness I am still questioning. If it was for a charitable purpose such as the profit of the tickets or the sale of the yee sang being channelled to worthy organisations then I am in support, but if it is to bolster up the UMS coffers I would say this is a waste of resources and time.

I've enjoyed the PAP in my past years, attending two out of the three previous ones. This time I'm going to give it a miss as I'll be heading back home to Kuantan next week and there are still a lot of matters to settle before that. I am glad that the tradition lives on to this year and many has taken the torch to make it a success. To them I give a salute and my admiration. For those interested and are in town, do give it a try and maybe you'll enjoy yourself, I know we students have. Tickets are still available at RM8 by sales from student or just pop over to Popular Books in Centerpoint, and the event is open to the general public.