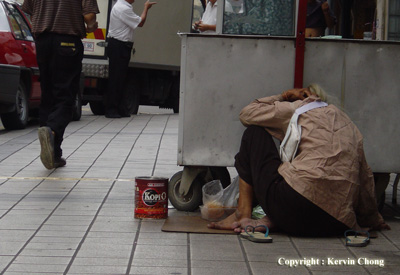 Pic: A common sight behind the glistening edifices, the sleek cars and the rich businessman. A society many of us wish not be reminded and mostly ignore as if they don't exist. But exist they do and they are there, asking alms on the street, living and dying by the sidewalks, maimed, destitute or just with luck to have people that do not care for them. So next time you walk by ask yourself if you can spare a little from your usual McValue meal or that latest CD you crave, that a little help goes a long way and it means so much to one who really needs it. Beware if fate decides that one day we might end up the same way and then we wished there was someone to help out with a little kindness.
My daily bread
My daily bread,
Who will provide my daily bread,
Oh kind soul don't just walk on ahead,
Leave a coin or two to spare,
To show some heart and care.
My daily bread,
The sidewalk, my home, my life,
By your kindness I'll survive,
It's not a life I wish upon,
Yet with hope I live on.
My daily bread,
Oh passersby take heed of me,
Open your eyes and see,
Am I not the same as your lot,
Remind yourself lest you forgot.
My daily bread,
My fate I am resigned,
So please leave a token behind,
So empty my stomach won't feel,
Alone in the sun, rain and chill.
My daily bread,
If there was any other life to be had,
The present no more I'm glad,
To have a family to love and cherish,
Yet all that is but a wish.