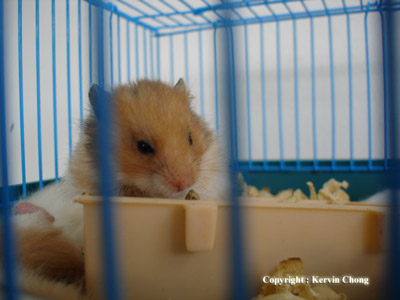 Pic: Fat little hammie just awaken from his makesift bed which is actually his feeding dish. A bundle of fun in these little turf of fur.
Recently a friend of mine bought a whole cartload of hamsters (50 fluff balls) for her final year thesis project. Brings back lots of memories, especially during form 6 biology classes when a coursework demanded we dissect a mouse. A lot of my friends from the physics department would squirm at the thought of this and maybe that's what separates us Bio students from the mech heads:) (but that's another discussion for another time).
Back to hamsters. Those little fur balls that look ever so cute but is an environmental disaster waiting to happen. I started out my hamster experience with just two individual, a brown patched large hammie with another smaller elongated grayish brown one. From these humble beginnings this couple soon turned into a barrage, eventually capping at round 250 hamsters of all sizes, shapes, colours and temperament. My menagerie grew from a single plastic cage to a makeshift pen replete with a sawn mango trunk for them to climb, small boxes for nests and tons of cloth for burrowing. Feeding them thus turn out to be a chore, they literally eat their own weigh and then some more. Greedy buggers kept on stuffing grain into their pouches though full. Of course their scat can stink for miles too. Grooming proved no problem, I know some people who shampoo their hamsters and the result was a bald rodent days later, for mine just turn on the old garden hose and spray them silly, they're self drying as well!
During the course of the exponential growth in rodent population, measures were taken to control them (no condoms or abstinence option). Thus we go to the evils of gender segregation, putting the boys and the girls in their very own enclosure. The only mistake I made was to miss out on a single male hammie which found itself in a virtual harem heaven. Next morning we found the guy lying flat backed dead but with a smile on his face (if they ever did smile he sure did). Next few months the cage of 56 females was full of pregnant hammies giving birth like crazy and population once again rebounded! Anyway inbreeding can cause serious problems, I found out aggression level in successive generations do amplify. I was bitten, mauled, latched onto, scratched and maimed by my pets, considering the initial batch was so tame you could put it on the couch and it'll stay there watching tv with you. The progenies not only fought and killed each other, they also got a little confused, and males started making out with each other. So much for viewing them as fun loving family suitable pets.
Having hamster can also be a source of profitable income. For a time I was known as the hamster guy peddling hamsters in school for RM 5 a piece. There was no short supply of buyers I can tell you that. Once at peak population I asked my teacher as we prepare for bio practical "Teach, is it okay if instead of white mice I use my hamsters for dissection purposes?". She replied, "heck no, just use white mice." I countered "But why? They're all rodents and their physiology is the same right? Or is it because they're too cute and if the girls see me cutting up such cute things they'd scream?" Silence…. In the end my last hamster was a small individual, blind in both eyes but ever as aggressive (the guy latched on to my finger countless of times and refused to let go) and he dies of old age. So ends my sojourn in hamster rearing.