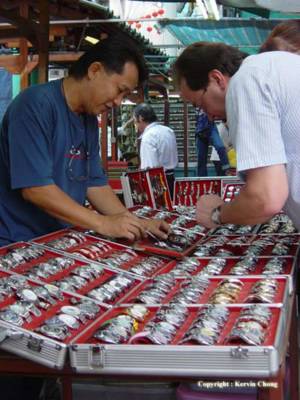 Sometime this week I was asked by Laura to attend a pitch that her friend asked her to attend. Though I'm always reluctant to hear sales people out, she had promised her friend and I figured we had to show some face by at least attending even as from the start I've made up my mind never to enter into any recruitment drives. It all began when Laura and I were in Labuan, she got a call from J who said he had some business friends that wanted to meet us to discuss a proposal. Since we can't wiggle our way out we agreed to show courtesy.
Thus there we were in Laura's lounge when J arrived in the rain lugging his laptop. He mentioned that his associated (people who have been in the sales line for years) would be a while later than expected as they were pitching to some other poor soul elsewhere. Thus he began setting up his com and soon he just said "I'm going to show you some video, so just relax and watch". I felt like asking, "can you just get to the point since we are on our way to dinner?" a rather polite way to say, "don't waste my time because its dinner time, any why the need to set the presentation of all time near dinner?"
His inexperience showed and all he could reply was we watch the CD he propped and his associates will be along shortly. I always believed that people without a thick face and those easily taken aback and offended should never get into the sales line. The general public will confront, assault, bad mouth and generally maul any salesman they figure is wasting their time and one has to be thick faced to reply with a smile and continue with your pitch until you wear your potential client down.
We were subjected to an hour of video espousing the new age of advertising and online marketing. We were introduced to the company's products and why it can be a success and why we should be on the band wagon. There was even an Indonesian cartoon on how creative marketing can help lead you ahead of the competition. Sad to say it felt too much like a marketing class I took last year and it was boring. At this point another of Laura's housemate which had the bad timing to enter at this point, was dragged into the pitch as well but ingeniously took this time to have her dinner which turning a death ear.
Thus nervous and unable to answer our questions, J soon began fidgeting with his phone and hustling his associates to hurry the heck over, it shows how greenhorn he was. Yup soon the other two backups came, dressed in business suits, lugging around a brief case with his presentation and sporting a defiant look, this was no amateur. He began professionally enough, greeting us and shaking hands all around, telling about himself and his work, trying to find common ground (which he did as he described that his girl friend lived near Laura's place in Ipoh and also that he was heading for my hometown Kuantan this week for a training meet) and soon settled in and began his pitch. This is a seasoned salesman, talking without a script about a subject he must've memories from countless repeats and spouting statistics from the tip of his tongue. Definitely not one to mess around with.
The company he works for is marketing a scheme whereby he recruits people to become referrers, spreading advertising by word of mouth and generating 'a buzz'. Currently selling referrals for two companies; Gold Quest which produces commemorative gold medal for events and another holiday time share package with affiliations to RCI. Thus he continued, the more you get people that make referrals and help sell the product, the more benefits you get. Somewhere it sounded just like a pyramid scheme but he soon countered this by stating several legislatures and trying to define marketing models. So back and forth we went me countering a point and he quoting another to counter mine. Thus we were at a stale mate and eventually everyone realize that we wont be persuaded and finally asked us to come join the meet to be held soon at a local hotel and we'll be better informed then so that we can reconsider. At this point, J was just standing there without uttering a word and must've realize we were of no use to him, thus all three of them went off to have dinner.
For starters they haven't considered certain things before recruiting UMS students; one most of us are in no position to recommend people to buy gold medals which ranges from a few thousands dollars unless we have rich relatives; two most of us are not in the income range to even begin affording the products they sell; three we do not have the time and luxury to go on a full time sales pitch and fourth even if the company is paying USD 250 for certain points earned, I don't figure we have such a large clientele here in Kk to reach that mark. So please next time anyone wants to do a sales pitch to me, reconsider because I'm adamant not to be dragged into one.