By many standards, Sapi is quite a small island. Barely a small stretch of sandy beach with the other parts of it a forested hill. Yet it holds great charms and can be said to be one of the least appreciated among the 5 within the TAR Park.
People density : 4/5
The number of people here is not as crowded as to be found in Manukan. But on weekends expect large crowds of tourists to visit. Often Sapi is visited mostly by divers which utilize the island's terrain and waters to train for their open water licenses and also foreign tour groups feasting at the beach.
Cleanliness : 4/5
Being less crowded and of a smaller area, Sapi is well kept and litter is promptly taken care of by the crew there. Floating seaweed might be a problem as tide washes them to shore but the speedy actions of the crew will ensure that the problem will be taken care of promptly.
Scenery : 4/5
Great scenery, very good diving spot. Lush greenery covers most of the island's steep incline and often you'll see the local resident wildlife trying to raid the buffet tables. Monkeys are prominent here and can be seen foraging on leftovers while easily spotted too is the resident monitor lizard which ambles over at lunch time to feed on scraps. Fir lined shore greet visitors and you have a great view of the adjacent islands especially Gaya. Underwater coral beds are excellent for diving and fishes can be seen in abundance congregating near shore.
Water : 3/5
Water visibility is clear. Near shore snorkelers can be treated to coral beds but with about 20 m visibility the best way to appreciate the waters in through diving. Sapi is the designated training ground for potential divers. Various dive centers offer 2 day courses that will take beginners on 6 dives at Sapi and the surrounding waters for as low as RM400 for an open water license. Coral beds are healthy seen even at 5 meters off the Sapi waters and the underwater flora is just bursting. Swimming in the cool waters is also a respite.
Facilities : 3/5
Facilities are minimal but adequate. The usual showers and changing rooms are available to visitors. A restaurant for those looking for food, gifts shops and activity center is found here. Nothing fancy as what is found in Manukan and there are no overnight accommodations available here.
Coastline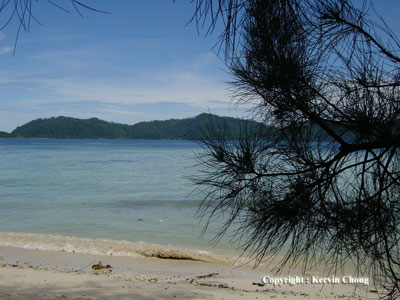 Sand : 3/5
The beaches of Sapi is a mixture of coarse grain sand and lots of coral rubble thus at time give you a little prickly sensation as you head for the surf. Large coral structures and rubble also litter the sea floor and may prove inconvenient at times as you may stab you foot or hit a toe. But several stretches are mostly sand and offer good swimming.
Pocket sensitivity : 4/5
Not much to buy here, a restaurant is situated here if you feel puckish but for less discerning diners, you can opt for the luxurious buffet spread prepared daily with loads of fresh seafood. A small gift shop sells the usual souvenirs and trinkets but not too large a selection. Games and equipment rental is priced fairly and is affordable.
Activities : 4/5
Quite a lot to do, as I've mentioned diving is the main activity for those headed to Sapi. Clear waters, excellent coral beds and easy terrain give the perfect setting to learn the joys of diving. Swimmers and snorkelers would not be disappointed here as well as the water is good but shallow waters are less and a drop off near shore means only expert swimmers. The usual water sports package can be had such as kayaking, parasailing and banana boat rides. A specialty here and a unique experience is underwater walking or
seawalking
. Fear of swimming? Don't dare to try diving? No fear, cough up about RM200 and you can experience all the joy of viewing underwater life without the fear of losing your breath. Wearing a special headset, you will be guided on an underwater tour of the reef where you'll view corals, interact with the fishes and even have a free photo to record your experience.
Overall : 4/5
Sapi is a nice beach, small, private and not as crowded as the others. Good for functions and parties of small groups. The beach is nice and clean, water is good and warm and facilities are adequate to accommodate anyone. Divers take note as this is a good place to start out the day's dive and hit off to other locations in the park.