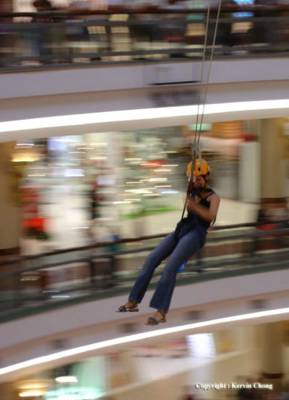 Pic: Contestant bungee jumping in 1 Utama, a local megamall in the Standard Charted contest for a chance to win prizes. From her empty handed looks, guess she walked away without one but still the thrill was good enough to put a smile in her face. Petaling Jaya, Selangor, 2004.
After my initial trial, this is my second submission under the theme of 'speed.' Mmm not too happy about the way it turned out but my cam does not catch fast paced actions in low lighting too well. Do help to vote for me though okay! Thanks for your support.

Voting for the category "furry" is now underway from friday till Sunday. My entry is connections and if you think it's a noteworthy picture please vote for it ok. The link is http://www.photofriday.com/linkviewer.php?id=370 and my entry is under Kervinphotos numbered 252. Thanks all for your support!