My, it's been a long break, not least the most happening time since I've been back to Sabah. Laura's house mate was leaving back to Negeri Sembilan for the week on holiday with his girlfriend and thus we were stuck with their old clunker of a car and also 26
hamsters
to feed (inclusive of four new hamsterlings). With wheels will travel as they say. Not to mention since the thunderstorm on Wednesday, the phone lines were out for the better part of the week, only did I get some respite from blogging, at first it was itching to get online but after a few days I've learnt to take things in stride and enjoy the break, it was after all Hari Raya. Surprise too was a call from my aunt saying she and her family was over here in Kota Kinabalu for the Raya holidays. With that managed to get a two day excursion to Kinabalu Park, Poring and also a day in the sun at
Nexus Karambunai Resort
, one of the more exclusive hotels here in Sabah.
Nexus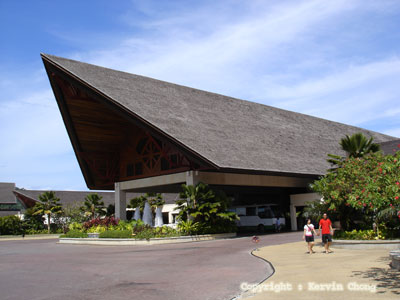 Lobby entrance to the Nexus Karambunai Resort.
The week started off well enough, stayed with Laura for the week, taking care of the hamster and clearing off their debris and ensuring none of them die from hunger. Went through a retinue of movies; The Incredibles, White chicks, Home on the ranch, Confessions of a teenage drama queen and Sky captain from the world of tomorrow. Went dining at some of the finer places in Kk, since with the car we had a chance to sample some of the better Chinese cuisines found at Damai, Luyang and Lintas; boy do I miss char kuey tiao, Laura too discovered there was a stall selling apom so she went on a eating spree there:) Tried out the new dining place next to Groball cinema and for RM8 the fish and chips were great, not to mention the décor was out of the world. Went eating at Little Italy a couple of times, their pizzas are to die for as well as their lasagna.
Got a chance to play
Sims2
as well! Spent the night with Laura making personas of ourselves, neck stiff after an hour posing while she chose my features. Moved into the neighbourhood, make some friends, buy furniture, got a job, got promoted, proposed, married, had a kid, got kid into private school, buy even more stuff, blah blah blah. It's addictive! During the night two of the hamsters we were looking after made a jail break and by morning we still can't figure out how they did it. Laid out traps to lure them back and waited. We didn't want them to end up of the fate of our friend's hamsters, whereby his landlord caught them and assumed they were rats and promptly drowned them. That night, Laura went to the toilet and by chance the two culprits were back outside their cages trying to get at the food. Hamsters can be so devious!
As I mentioned, aunt came, husband George and their two kids, Ian and Christine. Was looking for a car for them but as it was Hari Raya all the cheap ones were gone and they had to settle for a hotel RM200 rental (rip off) Wira. A bit hard as they wanted to view
Mt Kinabalu
but as they headed off late, the afternoon clouds were already obscuring the great view as they reach the Park headquarters. Heat wave also made the weather at Kundasang none too cool plus late in the afternoon it started to rain as we headed for Poring. They wanted a dip but with the Raya crowd, the place was packed. Well the children did enjoy the hanging walkway that was there. Headed back late and the roads were being slowly covered by low clouds until the scene has an ethereal feel to it. Shops were all close with the holidays so no buying spree at the Philippines Market for my aunt. Had Bah kut teh but opinion was that it can't compete with the Klang version.
Hills and clouds

A stretch of road bisecting the scenery of lush mountain top and clouds, heading towards Pekan Nabalu.
My aunt, negotiating the narrow runway up among the tree top canopy.

Next day was invited by aunt to have a swim at the Karambunai beach stretch. To my opinion one of the better beaches anywhere. Long sandy stretches, garbage free, large giant waves and surf, great for kayaking and boating as well as a good swim. Grabbed our trunks, changed in the luxurious bathrooms (still think it looks like a horse stall) and hit the beach. Large waves were great, lots of foreigners there either in the water or getting a tan. Spent hours body surfing the surf. Had a great meal courtesy of my uncle by the poolside (had a pita bread with chicken breast and mint while Laura went for the foot long hot dog) and then slept on the recliners provided. Later woke up, and hit the pool! Thirsty so bought the only non alcoholic drink available (pity it was happy hour and they were going at RM 9 a cocktail) which was a mango freeze which amounted to RM12! Showered in their great expensive room (lovely bath tub and cool air conditioner) and had dinner at the Chinese Restaurant (a plate of fried meehoon cost RM 28). Lovely day all in all.
Large bite

Laura taking a bite of the foot long hot dog by the poolside.
Sunset at the beach.