I'm not directly nor paid to promote Universiti Malaysia Sabah (
UMS
) and I've no intention to do so, but since the results are out and people have completed either Form 5 (SPM) or Form 6 (STPM) and are scouting around to plan for their future studies; I'm going to give them an overview of my former course and allow them to decide whether it is worth to pursue based on my very own experience here as well as observations of my coursemates and juniors. Recalling past experience, choosing courses to undergo can be harrowing more so if information is limited and non existent. It is a fond memory when I got my letter of appointment that the course given to me was not even listed in the University Review book (later to be explained that there was no time to register it as it was just made available) and having to call UMS to confirm that I've a place there. Though medicine, engineering and professional courses would still be high on people's list, it might be refreshing to give a look at more diverse programmes.
The Marine Science course as well as its sister course, Aquaculture are two of the newest programmes in existence here at UMS with my batch being the second to be under it and to this date 2 batches have graduated with 3 underway. Directly under the supervision of the School of Science and Technology (
SST
), there is one main difference between both as compared to other courses. As I mentioned administrative and supervision wise we adhere to the SST yet most of the bulk of our lecturers, labs, fieldwork and sources are appropriated from the Borneo Marine Research Institute (
BMRI
) situated within the university grounds. There are several good points to note about this arrangement.
First and foremost is that while SST is plaqued with administrative problems and a lack of funding, the BMRI which is in essence a center of excellence in the field of marine research, suffers not from such a fate. The administration here is excellent under the leadership of Prof. Dr. Hj. Ridzwan Abdul Rahman and the staff and teaching hands here are well qualified with a number of professors with world ranging recognition in their fields. Secondly, being researchers themselves and lecturers second, the BMRI
lecturers
are well suited to guide students along a path of research in diverse subjects such as ecology, fisheries management, biotechnology, natural product research, geology, marine park management, coral research, conservation and many more. Funding is also not an issue as even in times of lean (SST has often at times been unable to supply basic chemicals for projects and thesis) supplies are not a problem and funding can be had since grants and financial awards are easier to come by for an institute. Thirdly, collaboration wise, the Institute is connected with various other Institutions and can offer openings for students to further pursue their studies there, conduct collaborative research or even find gainful employment in future.
The Institute itself is a two storey building situated along the coast of Sepanggar Bay, about 5 minutes off the campus. Bus services are available to ferry students from one point to another within the campus and is not a problem. Half the building is dedicated to laboratories with the main ones consisting of the chemical lab, biotechology lab, biological lab, physical and marine ecosystem lab, wet lab, natural product chemistry lab and fisheries lab. A wing is reserved for lecturer's room and the master students room while others are for equipment and storage. A cafeteria with a lounge is at hand for those wanting to have lunch while multimedia rooms, conferrence rooms, tutorial block and library cum collection room are available. Nearby is the aquarium and museum whereby marine life is on display and is open for public viewing. The other site is reserved for the hatchery staff with tanks for fish rearing and staff housing. Nearby the shore is a jetty constructed for boat maintenance and loading as well as the dive room.
I've been ranting enough, thus I'm going to the gist, about the programme itself. People who would be interested in this course would constitute those adventurous and outgoing people. I figure these will come mostly from the Biology stream and with a high amount of science background. There exist a balance for this field whereby students are required besides the usual classes and tutorial, to carry out hours of field work along Sabah's coastline as well as periods of working in the lab. Classes consists of 57 credit hours with subjects such as; coral ecology, integrated coastal zone management, physical oceanography, chemical oceanography, marine biotechnology, fisheries studies, meteorology, coastal pollution, navigation and much more. In addition you would be required to undergo the usual language courses, economics package, core science subjects, co-curricular activities and other university requirements. For those wishing to further their studies after the degree, the Institute also offers courses for Masters and PhD. level.
As I said most of the courses you take will involve lab work and fieldwork. For this the Institute is equipped with the latest technology and facilities to enable you to learn about the diverse fields involved in the marine system. Labs are equipped with high precision layer chromatography (HPLC) machines, Nuclear Magnetic Resonance (NMR) machines, spectroscopes, incubators, fermenters, electron microscopes, computer labs, freeze dryers and much more. As per the name, you'll be journeying out to the sea, islands and coastal zones on a regular basis. It helps that Sabah is a major coastal zone where there is a lot of unspoilt natural wonders to be had. The Institute itself is situated by the sea with its own jetty and there are 4
vessels
that it owns for research and student usage. Handy too is our well stocked SCUBA room that equips students wishing to carry out fieldwork. A state of the art hatchery (a lot of collaboration is being carried out with Japanese Institutions and counterparts) has recently been concluded and research as well as fish rearing trials are constantly a fact of life for the aqua-culturists. A diving course is part and parcel of the programme, no swimming pool dives, real dives off the Sabah Coast and around the Tunku Abdul Rahman (
TAR
) Marine Park. Plus the cost is cheap RM400 for a basic license.
Sabah is a welcoming place to be and is an added perk for those wanting to see a different place and experience. Those familiar to life in Kl would not be too traumatized, Kota Kinabalu is after all a city and you won't be missing your fast food joints, CoffeeBean, discos, shopping malls and cinemas though they may be less as compared to bigger cities. Culture shock is minimal as most of the sights, sounds and people here will be as familiar as those back from other states. Sabah too offer a wide range of natural attractions, you can opt to fill your holidays visiting
Mt. Kinabalu
, travel to dive at
Sipadan
, hiking and jungle trekking at Danum Valley, visit the towns of
Sandakan
,
Semporna
,
Kudat
and many more. Culture wise, experience the myriad festivities with the wide array of local tribes here such as the Bajau, Kadazan Dusuns, Murut, etc. It's a true haven for nature lovers. A combination of campus life, nature appreciation, city lifestyle and a little adventerous self exploration would see you occupied till your end of tenure here.
Now for some personal insights, the three years that I've been here I have no regrets. It has been fun and the course was an interesting foray. With our group of 7 coursemates (we were still a bit of the pioneer batch), though recent intakes involves about 40 students per course, we formed a tight knit community and had much misadventures. True there are frustrations and headache at times but we all went through it plus where ever you go you'll still be faced with the same problems. We were nomads at first, our Institute building was still under construction and we were class hopping within SST. We saw the rise of our new faculty building, the starting of the hatchery programme, the opening of the
aquarium
and much more. We travelled to places visiting on our vessel the UMS
Galaxea
to
Pulau Tiga
, dived at Sepanggar Bay, counted seagrass, visited Kudat, rode out in a fishing boat to conduct trawling and much more. We attended lectures from visiting professors and NGOs such as the
World Fish Center
based in Penang, travelling lecturers from the
Philippines
, joined GreenForce (an environmental group from Singapore) and much more. To insribe all the experrience here would warrant months of posting daily, suffice to say it was great. Most memorable of all was the opportunity given to us to conduct our industrial training overseas with the aquaculture students assured under a MoU to work in Japan while we had a posting at the Philippines. Besides academic, I had enjoyable housemates who made everyday interesting and new, attended parties and dinners, travelled and took loads of photos and generally had a ball.
Many who has taken the course have gone to find welcoming employment in fields such as the Royal Navy, Dutch Hydrologic Institute,
WWF
, World Fish Center, Shell, environmental firms, research postings, biotechnology firms and a number even stayed behind to continue their studies with the graduates joining the staff here at the Institute. I hope this enlightens those degree seekers to an extent and if any further enquiries of if you want to ask more about life here in Kota Kinabalu as well as the course do feel free to contact me at
kervinchong@gmail.com
IPMB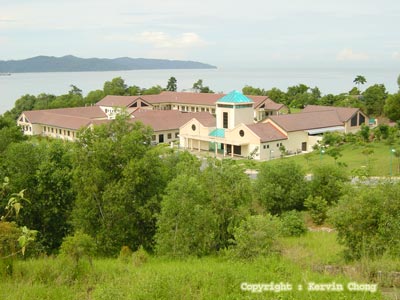 View of the BMRI building from the entry road, blue roofed structure is the aquarium and museum while the building in the background is the main building housing the labs, rooms and office. It commands a great view of Sepanggar Island in the background and sunsets here are memorable.
Staff worker conducting maintenance work on several aquaculture tanks that is currently holding fish fry and algae (used as fish feed).
Fisheries being developed here include a number of saltwater fishes such as the grouper and mousegrouper.
Galaxea

UMS Galaxea moored at the Sutera Harbour marina. Used for research expeditions, field work and special projects undertaken by the Institute.
Aquarium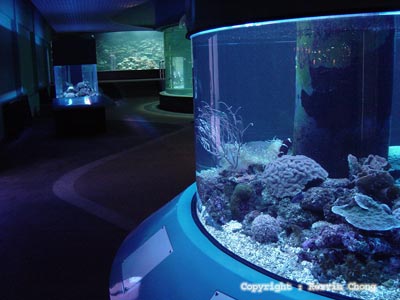 Several of the display tanks housing corals, invertebrates and coral fishes on display for public viewing. Located within several tanks that simulates different environments such as deep sea habitats, mangrove estueries and coral reefs.

Laboratory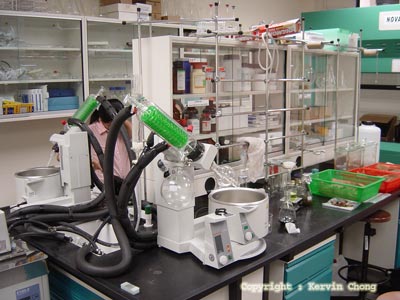 Laboratory stocked with equipments and chemicals for research and teaching.
Supervision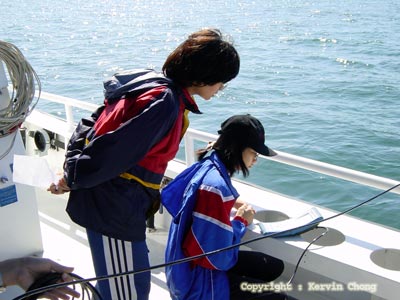 Dr. Ejria supervising a student during field work to measure water parameter along the Kota Kinabalu coast.
Dissect

Dissecting a fish to study growth factors during Fisheries studies lab work.
Field work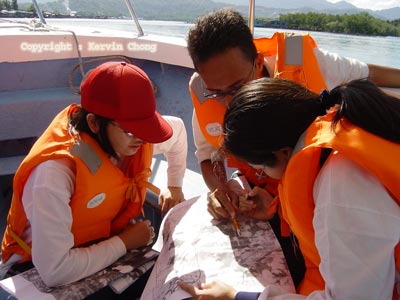 Charting development and their impact on the Mengkabong estuarine and river system.
Survey

Conducting beach profiling for physical oceanography classes.
Projects

Voluntary help for Seagrass Watch to inventory seagrass population for Kota Kinabalu for a global inventory system.
Presentation

Communication skills and technology know how being applied for presentations and viva.
Community programmes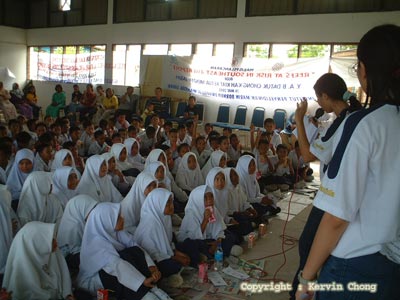 Giving talks to primary school students at SRK Mengkabong as part of our special project on environmental awareness.
Labs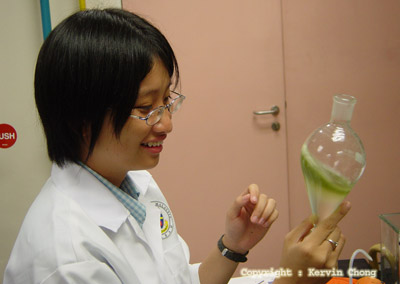 Tang Sui Sieng conducting separation of active natural product compounds for her thesis.
Industrial training stint

Group photo with Associate Professor Dr Annadel (UMS) and Dr Wolfgang Reichart (Bolinao Marine Laboratory) along Patar Beach during industrial training in the Philippines under the University of the Philippines.
Celebrations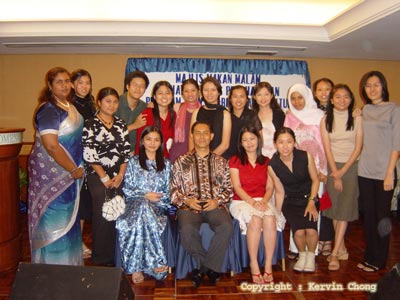 A light moment of fun and games to celebrate the end of our studies for Marine Science and Aquaculture graduates, here posing with Prof. Ridzwan during the Marine Night dinner.